Welcome to Pearce Bros Self Drive Hire
Let us tell you about the fantastic range of vehicles we have available for hire.
VANS
From a small Citroen Berlingo , through all shapes and sizes of Ford Transit, right up to a 4m Mercedes-Benz Sprinter, we can accommodate all your needs.
TIPPERS
We have a range of Ford Transit Tippers, both single and double-cab available.
LUTONS
A selection of Ford Transit, Mercedes Sprinters and 3.5t Lutons are on our fleet – perfect for house moving and much cheaper than removal companies!
FRIDGE/FREEZER VANS
These range from a Ford Transit Custom SWB up to a Ford Transit LWB and Mercedes Sprinters. All our temperature-controlled vehicles are fitted with the latest technology, are eco-friendly and fuel-efficient, as well as being complete with state-of-the-art Hubbard refrigeration equipment. Temperature range is from -21C to +8C.
CARS
We have an extensive selection of cars available; from a small Fiat 500, mid-range Kia Cee'd, to a a BMW 3 Series Auto, right up to a 8 or 9-seater People Carrier or Kia Sportage 4×4. This is just a snapshot of our range of cars, we have many others on the fleet, so please just ask! Please take a few minutes to browse through our current range of vehicles and simply click on the particular vehicle you are interested in. Every model has an enquiry form provided for you to contact us, we will then reply promptly to arrange to get you on your way!
Car Hire
Van Hire
Important customer notice about driving licence checks
The following will apply to all of our Pearce Bros rental bookings commencing
Terms of Hire
Pearce Bros Sponsor a Local School
Greenpower is an organisation designed to get young people into engineering
The school purchased a "goblin" kit and a group of 12 pupils in year 6 formed an after school club to build and race the car
They wrote letters to businesses for sponsorship and managed to finance the entire purchase, build, uniforms, tools and race entry fees from this
They constructed the kit and then designed and built the bodywork which had to be made from recycled materials
In the Thunders case recycled For Sale boards
They designed the logo and branded their overalls along with the car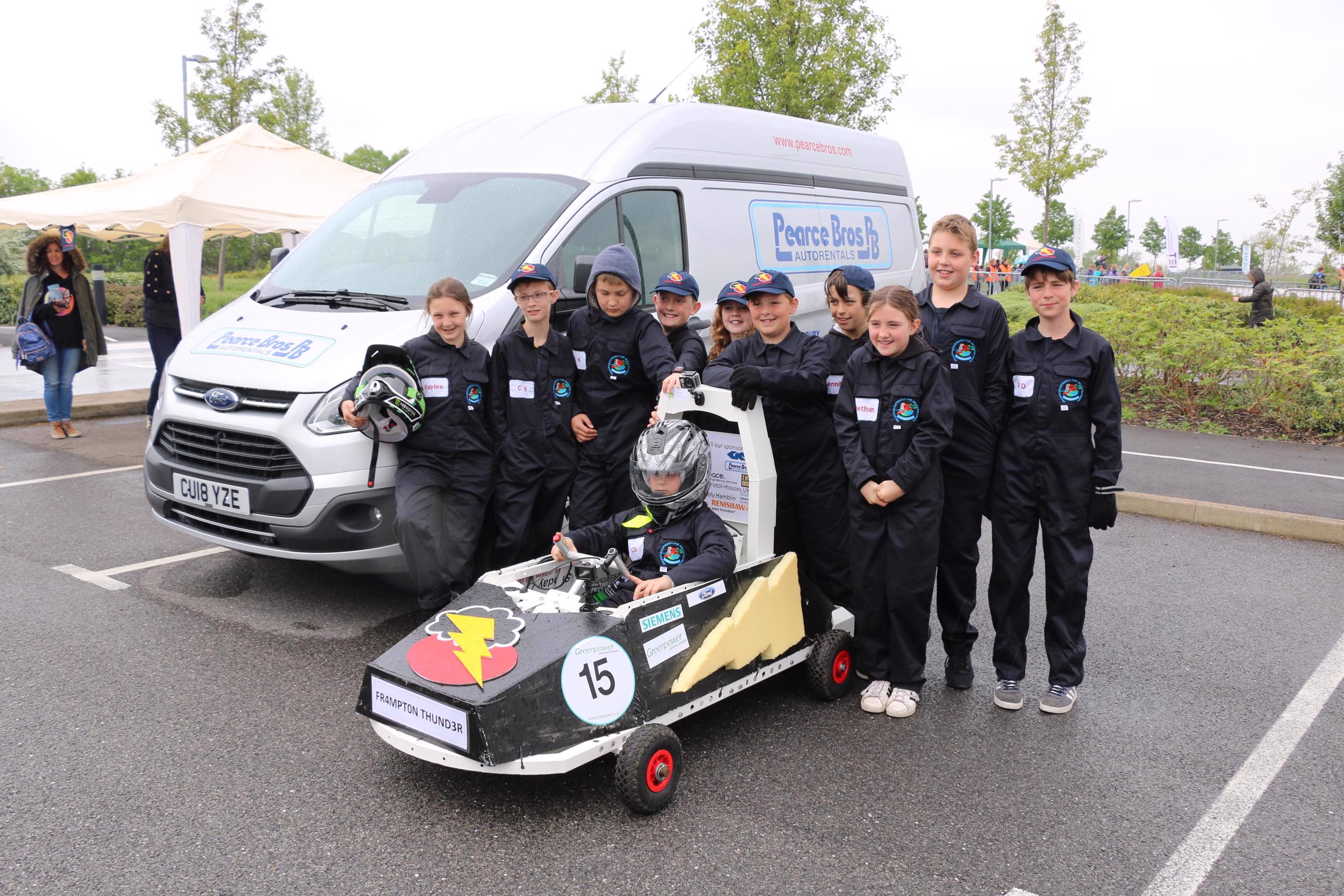 The team attended their first meeting at Renishaw's Wootton under edge on 18/05/2019 where the "Frampton Thunder" was entered along with 20 other cars
Each car had to pass scrutineering and the teams each submitted a portfolio of the build
There were heats,
6 drag race and 6 slalom each individually timed and the fastest from each being submitted to the judges
After lunch the cars raced around a short circuit three at a time in a winner takes all knockout
Semi-finals and a grand final followed until a winner was declared
There were 5 additional awards of which the Frampton C of E School took two
Best turned out team
Best Portfolio
Pearce Brothers sponsored the team by providing a Transit van to carry the car and all the associated tools to and from the event which was fantastic as we were able to take everything we needed and it kept all of the kit secure and dry and made our pit look one of the best on the day
Thank you so much for your help
Andrew